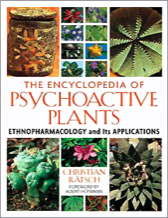 The Encyclopedia of Psychoactive Plants
Christian Rätsch
"In the realm of psychoactive plants, Christian Rätsch is the world's most knowledgeable person.
Here is his magnum opus – a veritable treasure trove of information about the most fascinating members of the plant kingdom. As the "teachers" and the gatekeepers to the spirit world, psychoactives help us cleanse the lenses of perception. No one interested in natural ways to expand consciousness should be without this magnificent volume."
Ralph METZNER, Ph.D., psychologist, author of Green Psychology and coauthor
of The Psychedelic Experience
"It is a truism in anthropology that virtually all cultures utilize plants and mushrooms for their psychoactive effects. The impulse to achieve altered states of consciousness is universal. Several precious books on psychoactive plants have become classics on this subject. While valuable historic additions to the library, they must now move over. This encyclopedia is truly destined
to be the most authoritative reference on natural psychoactive substances for
years to come."
Mark BLUMENTHAL, founder and executive director of the American Botanical Council,
and editor of HerbalGram
Verlag: Inner Traditions, Vermont
Erschienen: 2005
ISBN: 0892819782
Kosten: 125,00 USD
Buchdaten: Hardcover, 11.0 x 8.9 x 2.1 inches
Full monographs on 168 of the most well-known psychoactives and minor monographs on 135 lesser known plants.
942 pages, lavishly illustrated with 670 black-and-white illustrations and 800 color photographs – from the author's extensive fieldwork conducted around the world.